Don't know where to start with opening your new shop, cafe or restaurant? We've got you ...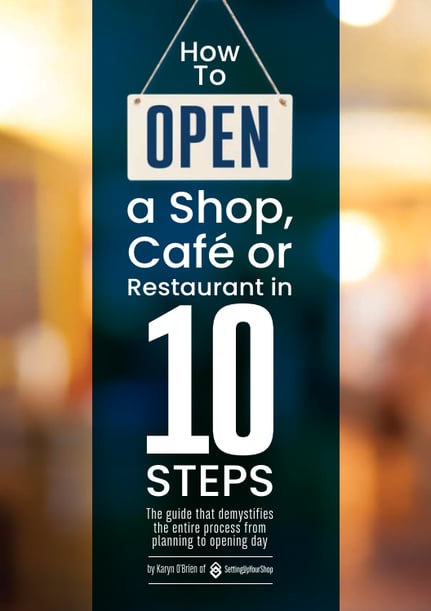 10 steps to getting your bricks & mortar shop up and running

This step-by-step guide is filled with tips and realistic advice from someone who knows shop fitout inside and out (that's me!).
Through my role of helping retailers get through the design and build process to open their shops, I realised one of the critical differences between big retailers and smaller "mum and dad" operators was that the big guys have a lot of resources at their fingertips that the smaller guys don't have easy access to - like leasing managers, property managers, and project managers plus property criteria, design guidelines and big budgets.
So I wrote this 10-step guide to walk you through everything you need to know about opening a shop, café or restaurant – from how to find the right premises to finding a designer and setting a realistic budget. In this guide, I explain all the confusing jargon and help you plan to avoid the major pitfalls people face when opening up a new store.
At each step, I will let you know the questions you should be asking, the problems to watch out for and my top tips for success. The guide is filled with templates and checklists that you can use to make sure you stay informed and on top of the challenges. I've included a glossary to explain the industry terms that you might not have come across yet as well as a helpful resources page with links to other important information that you will need.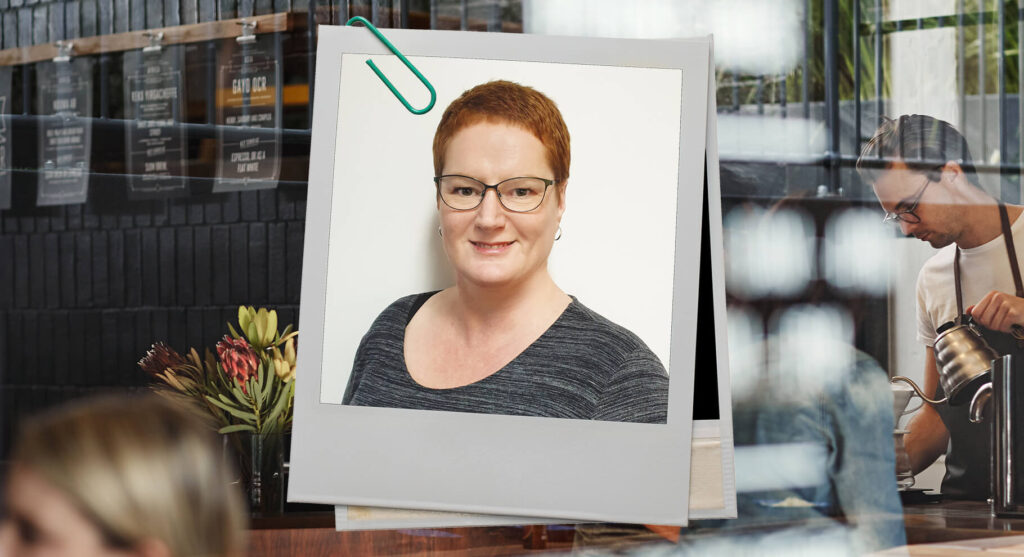 What makes me an expert?
I've been working in retail for over 20 years now and I have opened literally hundreds of shops – from 10 square-metre coffee kiosks to 1500 square-metre boutique grocers, nationally franchised gym chains to an award-winning Chef's Hat restaurant. I've also brought to life some not-quite-retail spaces like a childcare centre, a call centre, a couple of art galleries and a theatre.
I've set up shop for butchers, bakers, and artisan coffee makers! I've worked on projects that cost as little as $20,000 right up to $7.5 million fitouts. I've worked to set up shops everywhere from huge shopping centres to boutique stores in heritage buildings on old street corners.
Throughout my career, I've seen pretty much everything that you can see in the world of retail design and fitout.
How to open a shop, cafe or restaurant in 10 steps

This book is designed to help anyone who is new to opening up a shop, café or restaurant learn about all the steps required to open and fitout their store (fitout is the term for everything you have to build inside the walls of the shop to create your physical store, from shelves and floor finishes to signage and electrical wiring).

The book will help you set a budget and stick to it, review your lease, plan the build of your shop, learn about the professionals you will need to employ along the way, and much, much more.
We've divided this book into 10 steps, and we recommend you read and complete the steps one at a time.
Please don't attempt to read the entire book in one sitting as this would be an overwhelming amount of information to take in!
One aim of this book is to reduce your stress…so please take it easy and take your time. We'll let you know throughout the steps if you need to read ahead before completing an activity.
And you can download each chapter on it's own below, in case that's easier!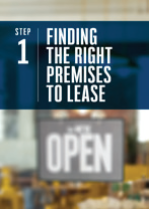 1: Finding the premises

Step 1 will help you find a premises to lease to run your business from. This section includes a comprehensive Tenancy Inspection Checklist to help you find the right property to suit your business. It will also help you keep a record of all the important details – including anything you've discussed with the landlord – which will be useful when negotiating your lease (in Step 4).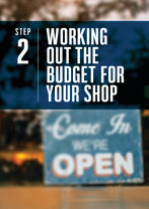 2: Working out the budget

Step 2 will help you work out a realistic budget for opening your store. This step includes a comprehensive Project Budget Worksheet, Advice, and a Key Items Guide. At this stage, you won't have firm details for many of your costs, but this step will guide you in being as specific as possible to help create your vital initial budget.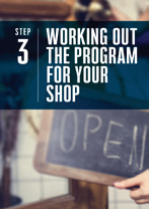 3: Working out the program

"Program" is the term for the plan or timeline for all the activities that are required to build your shop fitout. This step will help you create your own timeline showing all the activities and trades you need scheduled in from day one to opening day. Setting a realistic opening day is critical before you agree to a lease. This step includes a Build Your Own Program Worksheet and Advice section.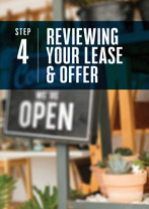 4: Reviewing the offer

This step includes three comprehensive guides to help you review your lease, your offer, and your referenced documents thoroughly before signing. There are also some tips to help you negotiate for terms that best suit you and your business.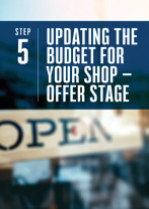 5: Updating your budget, part 1

In this step, you will update the budget you set in Step 2 to reflect any new information you have regarding costs and estimates. It's important as your project progresses that you review your budget from time to time, adding in the actual costs and estimates along the way.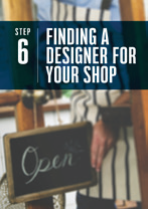 6: Finding a designer

This step will help you find the right interior designer to bring your vision for your shop to life and will coach you in how to brief a designer on your vision and needs. This step includes a guide to explain the 11 stages of the design process and will help you learn all the terminology you'll need when talking plans with your designer.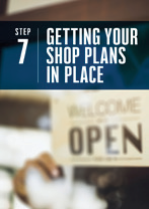 7: Getting your plans drawn

This step will ensure you know how to get all of the formal plans you will need produced – from floor plans and reflected ceiling plans to elevations and electrical plans – before the build of your shop can begin. This section includes a Designer Brief and Plans Guide.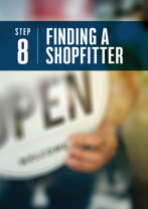 8: Finding a shopfitter

This step will help you find the key specialist builder you'll need to bring your shop to life: a shopfitter. It includes a How to Find a Shopfitter Guide and a Tender Pack Checklist that will help you get more accurate quotes and pricing back from the shopfitters you contact. This step also includes a guide that will help you assess the tenders that you receive from your shopfitters.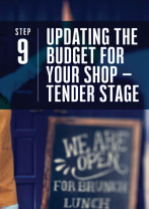 9: Updating your budget, part 2

This step will guide you in creating your most complete budget to date. With a full set of plans and pricing back from your shopfitter, you'll be able to fill in specific prices for most of the items you estimated in earlier versions of your budget. This step also helps you work out where to save if your budget has crept over your upper limit with a very handy Tender Stage – Where to Save Guide.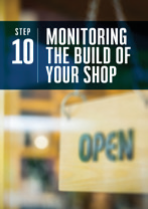 10: Monitoring your build

This is the last step that takes you all the way to opening day. This step helps you monitor the build of your shop with guides and checklists to help you ensure everything is being built to the quality you expect and is proceeding on-time and on budget. This step also includes advice for your final week and a guide and a checklist to help you identify
defects you may need rectified at the end of the build process.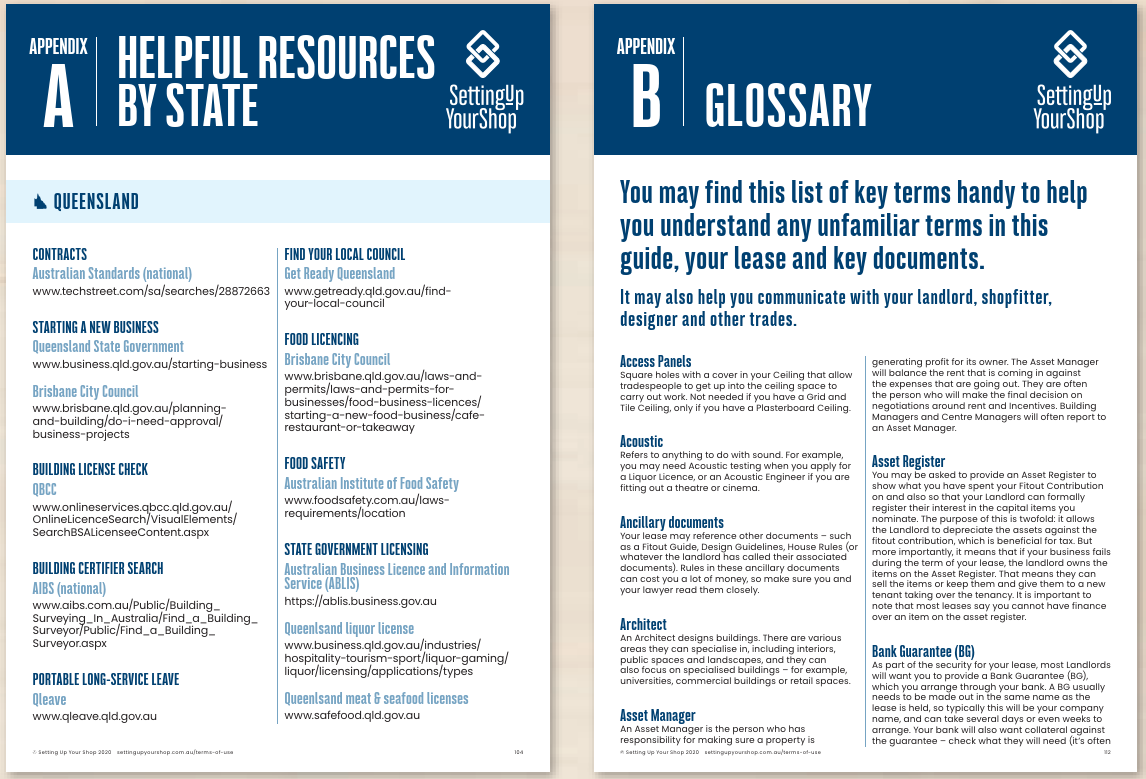 Appendices

This section has links to state by state resources that will help you along the - things like liquor licensing and council regulations - as well as a Glossary that will explain some of the lingo that landlords, designers and shopfitters use.